Read about: Meaning of Making Series: Natsu-mikan (summer orange) Marmalade 2019
Thank you for your interest in my editioned marmalade. The online price of each jar of marmalade + the companion portrait is 10,000 JPY (around 90.00 USD), which includes tracked shipping to anywhere in the world. You can click to enlarge the portrait thumbnails below; it may help you choose an edition number you'd like to purchase.
PLEASE NOTE:
Red dot 🔴 : SOLD and Not available
No dot : Available and comes with a unique passcode to download the companion portrait yourself and own the downloaded image file (click here for more info)
Blue dot 🔵 : Available and comes with a pre-printed and framed "lifesize" companion portrait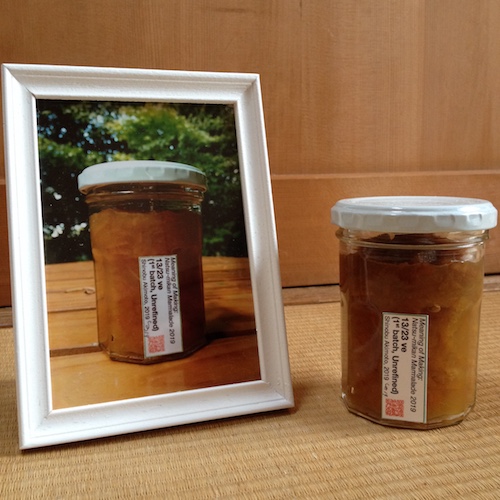 , but no access to the image file (click here for more info)
Please put the edition number of your choice in the box ↓
If you have already purchased a jar, click the thumbnail image of your marmalade to proceed with downloading the companion portrait. If you have any trouble in the process, contact the artist.(ご購入されたご自分のマーマレードのサムネール画像をクリックして、パスコードを入力、[submit]し、ダウンロード画面に進んでください)
(1st batch, Unrefined) - 23 editions

UR_1/23

UR_2/23

UR_3/23

UR_4/23

UR_5/23

UR_6/23

UR_7/23

UR_8/23

UR_9/23

UR_10/23

UR_11/23

UR_12/23

UR_13/23

UR_14/23

UR_15/23

UR_16/23

UR_17/23

UR_18/23

UR_19/23

UR_20/23

UR_21/23

UR_22/23

UR_23/23
(1st batch, Beet) - 22 editions

B_1/22

B_2/22

B_3/22

B_4/22

B_5/22

B_6/22

B_7/22

B_8/22

B_9/22

B_10/22

B_11/22

B_12/22

B_13/22

B_14/22

B_15/22

B_16/22

B_17/22

B_18/22

B_19/22

B_20/22

B_21/22

B_22/22
Read about: Meaning of Making Series: Natsu-mikan (summer orange) Marmalade 2019
How you CAN have your [marmalade] and eat it too.
Once you receive your jar in the mail, you'll find the passcode printed on the bottom of the jar, and that will let you download the high-resolution image file of your marmalade portrait. I recommend printing the portrait at 300dpi, no larger than 21 x 28 cm (8½ x 11 inches) on high quality photo paper using a high-quality printer, or at a professional photolab for the best result. However, it is of course your call how you would like to print it, if at all; you're the sole collector of the image file.
At this time, I am also offering the "combo" of selected jars and their companion portraits already downloaded, professionally printed and framed. (indicated with blue dots) The size of the print is 9.3 cm x 13.5 cm, making the marmalade jar "lifesize". The price is the same as above and you will receive both the jar of marmalade and the framed portrait; however, you will have no access to the image file.
As implied in the project description, this price is not fixed and will likely increase as the number of the remaining jars of marmalade decreases in the suite. Likewise, should you purchase it in person at a sale, the price may be less but I'm not sure if the difference will compensate the cost of a flight to Japan or any other sale points. The information about these in-person sales in the future will be listed on this page.
My editioned marmalade is made with our own organic summer oranges with either unrefined sugar (UR) or beet sugar (B) and nothing else. The jar is vacuum-sealed but once opened, it should be kept in the fridge and consumed within 2 - 3 weeks.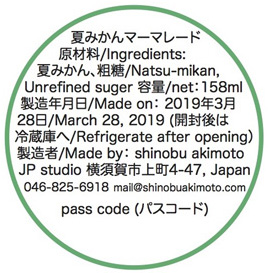 Thank you again and if you have any questions, or problem with the online purchase process, please contact me. If you are interested in other obscure things you can buy from me, please visit → SHOP.
All the best,
Shinobu Akimoto